Paper Planes
Monday 28_Dec 2015    

An imaginative children's film about a young Australian boy's passion for flight and his challenge to compete in the World Paper Plane Championships in Japan.
---
Fast and Furious 7
Wed 30 Dec 2015          

Deckard Shaw seeks revenge against Dominic Toretto and his family for his comatose brother.
---
Bridge of Spies
Fri 1 Jan 2016
During the Cold War, an American lawyer is recruited to defend an arrested Soviet spy in court, and then help the CIA facilitate an exchange of the spy for the Soviet captured American U2 spy plane pilot, Francis Gary Powers.
---
Jurassic World
Sat 2 Jan 2016          

A new theme park is built on the original site of Jurassic Park. Everything is going well until the park's newest attraction--a genetically modified giant stealth killing machine--escapes containment and goes on a killing spree.
---
The Dressmaker
Sun 3 Jan 2016                      
A glamorous woman returns to her small town in rural Australia. With her sewing machine and haute couture style, she transforms the women and exacts sweet revenge on those who did her wrong.
---
Spectre
 Mon  4 Jan 2016
A cryptic message from Bond's past sends him on a trail to uncover a sinister organization. While M battles political forces to keep the secret service alive, Bond peels back the layers of deceit to reveal the terrible truth behind SPECTRE.
---
Minions
Tues 5 Jan 2016 

  
Minions Stuart, Kevin and Bob are recruited by Scarlett Overkill, a super-villain who, alongside her inventor husband Herb, hatches a plot to take over the world.
---
Oddball
Wed 6 Jan 2016
An eccentric chicken farmer, with the help of his granddaughter, trains his mischievous dog Oddball to protect a penguin sanctuary from fox attacks in an attempt to reunite his family and save their seaside town.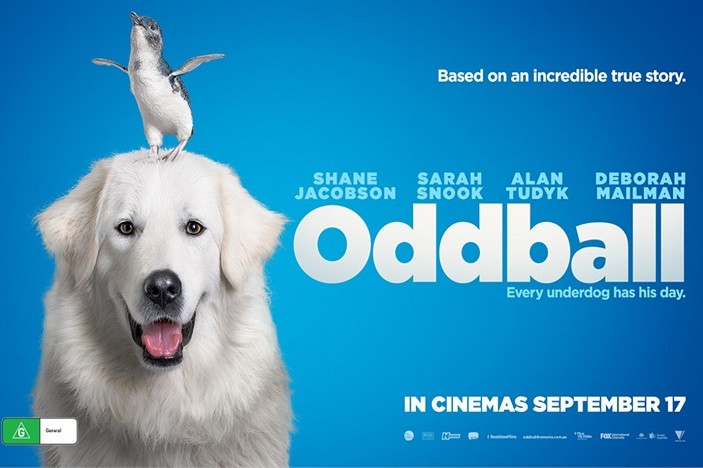 ---
The Hunger Games: Mockingjay - Part 2
Thursday 7 Jan 2016

As the war of Panem escalates to the destruction of other districts by the Capitol, Katniss Everdeen, the reluctant leader of the rebellion, must bring together an army against President Snow, while all she holds dear hangs in the balance
---
He Named Me Malala
Fri 8 Jan 2016
A look at the events leading up to the Taliban's attack on Pakistani schoolgirl, Malala Yousafzai, for speaking out on girls' education followed by the aftermath, including her speech to the United Nations.
---
The Martian
Sat 9 Jan 2016
During a manned mission to Mars, Astronaut Mark Watney is presumed dead after a fierce storm and left behind by his crew. But Watney has survived and finds himself stranded and alone on the hostile planet. With only meager supplies, he must draw upon his ingenuity, wit and spirit to subsist and find a way to signal to Earth that he is alive.
---
Miss You Already
Sun 10 Jan 2016
A woman (Toni Collette) undergoes treatment to battle breast cancer while her best friend (Drew Barrymore) tries to get pregnant.
---
Everest
Mon 11 Jan 2016                              
A climbing expedition on Mt. Everest is devastated by a severe snow storm.
---
Ernest & Celestine
Tues 12 Jan 2016
The story of an unlikely friendship between a bear, Ernest, and a young mouse named Celestine.
---
Pitch Perfect 2
Wed 13 Jan 2016                              
After a humiliating command performance at The Kennedy Center, the Barden Bellas enter an international competition that no American group has ever won in order to regain their status and right to perform.
---
Paper Towns
Thurs 14 Jan 2016
After an all night adventure, Quentin's life-long crush, Margo, disappears, leaving behind clues that Quentin and his friends follow on the journey of a lifetime.
---
Tanna
Fri 15 Jan 2016
Set on a remote Pacific island, covered in rain forest and dominated by an active volcano, this heartfelt story, enacted by the Yakel tribe, tells of a sister's loyalty, a forbidden love affair and the pact between the old ways and the new.
---
Avengers: Age of Ultron
Sat 16 Jan 2016
When Tony Stark (Robert Downey Jr.) jump-starts a dormant peacekeeping program, things go terribly awry, forcing him, Thor (Chris Hemsworth), the Incredible Hulk (Mark Ruffalo) and the rest of the Avengers to reassemble. As the fate of Earth hangs in the balance, the team is put to the ultimate test
---
The Age of Adaline
Sun 17 Jan 2016                         

A young woman, born at the turn of the 20th century, is rendered ageless after an accident. After many solitary years, she meets a man who complicates the eternal life she has settled into.
---
Bridge of Spies
Mon 18 Jan 2016
During the Cold War, an American lawyer is recruited to defend an arrested Soviet spy in court, and then help the CIA facilitate an exchange of the spy for the Soviet captured American U2 spy plane pilot, Francis Gary Powers.
---
The Good Dinosaur
Tues 19 Jan 2016
An epic journey into the world of dinosaurs where an Apatosaurus named Arlo makes an unlikely human friend.
---
 

Love the Coopers
Wed  20 Jan 2016 

                          

When four generations of the Cooper clan come together for their annual Christmas Eve celebration, a series of unexpected visitors and unlikely events turn the night upside down, leading them all toward a surprising rediscovery of family bonds and the spirit of the holiday.
---
Me and Earl and the Dying Girl
Thursday 21 Jan 2016
An awkward high-school senior (Thomas Mann) and a gravely ill classmate (Olivia Cooke) surprise themselves by becoming inseparable friends.
---
The Lobster
Fri 22 Jan 2016                            

In a dystopian near future, single people, according to the laws of The City, are taken to The Hotel, where they are obliged to find a romantic partner in forty-five days or are transformed into beasts and sent off into The Woods.
---
Star Wars: Episode VII - The Force Awakens
Sat 23 Jan 2016
Thirty years after defeating the Galactic Empire, Han Solo (Harrison Ford) and his allies face a new threat from the evil Kylo Ren (Adam Driver) and his army of Stormtroopers.
---
By the Sea
Sun 24 Jan 2016          

Set in France during the mid-1970s, Vanessa, a former dancer, and her husband Roland, an American writer, travel the country together. They seem to be growing apart, but when they linger in one quiet, seaside town they begin to draw close to some of its more vibrant inhabitants, such as a local bar/café-keeper and a hotel owner.
---
The Hobbit: The Battle of the Five Armies
Mon 25 Jan 2016
Bilbo and Company are forced to engage in a war against an array of combatants and keep the Lonely Mountain from falling into the hands of a rising darkness.
---
 Blinky Bill The Movie

Tue 26 Jan 2016
Loggers pose a threat to a playful little koala and his animal friends in Australia.